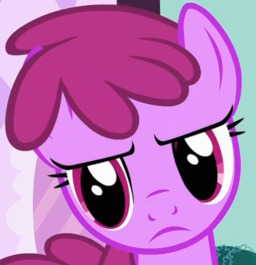 Berry Punch turned her life around and she knows two things:
1. Her life has never been better. She has great friends, and a much improved relationship with Ruby Pinch, her daughter.
2. She grew up a petty inner city criminal. Barely anypony knows, of course. Ponyville's problems tend to get solved by friendship, weaponized or otherwise, and if anypony did need to be roughed up, Berry was probably hung over at the time.
Berry is at peace. So what if she's a little rough around the edges? She's no crazier than her friends. However, her misspent youth and early adulthood seem to catch up to her when her daughter's sire sends a letter indicating that he wants to be part of his daughter's life. That stallion has never shown an interest, and Berry can't believe things are as simple as that. With help from her friends, she intents to get to the bottom of things, and tie up loose ends, if necessary.
It's only right to confide in Bon Bon and Lyra, after all. Bon Bon let Berry in on her past as a monster hunter in a surprising gesture of trust, and the other earth pony at least wouldn't judge Berry for her past.
Chapters (13)