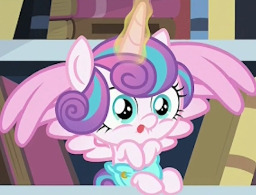 Cadance, Shining Armor, you had one job--don't make a baby that will bring about the apocalpyse of ponykind as we all know it.
Well, so much for that plan of action.
Yes, Flurry Heart is here, she's powerful, she's an alicorn, and she nearly took out the Crystal Empire just by crying! Time to take a look at some 'off screen' moments about how exactly everypony is coping with this information and all of the events it set into motion.
Looking for a clear plot? Ha, I dare you to find one! This story is as slice of life as you can get!
Chapters (1)