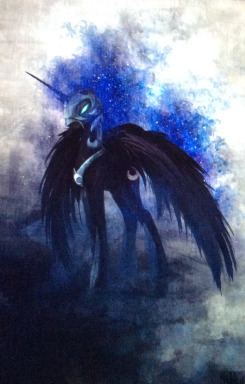 Source
Defeated and imprisoned in the moon for 1,000 years. Celestia finally escapes her prison. When she comes back Equestria is much different. It's renamed to The Lunar Empire under the rule of her corrupted sister.
All must serve her sister or else. The ponies of Equestria do not remember her or anything before her sister's rebellion. They have been brainwashed and mind controlled by Nightmare Moon.
But Celestia has a glimmer of hope as a group of ponies have figured out who the true ruler is, her and Luna. The group The Equestrian Fighters are led by Sunset Shimmer, the former student of Nightmare Moon. She figured out the real past of Equestria and spread it to other ponies.
With Celestia only representing half of the elements. Which is not powerful enough to bring back her sister. The elements, being held by Nightmare Moon need to have new element barriers. Destiny was chosen new element barriers which all serve the very pony she is trying to defeat.
Magic being the student of Nightmare Moon.
Laughter being the head cook of her sister's castle.
Loyalty being the captain of an elite military team called the Shadowbolts.
Generosity being the royal decorater for Nightmare Moon.
Honesty being a guard of Nightmare Moon.
And Kindness being the castle gardener.
All of the six mares are what destiny is calling them the new heroes of Equestria.
---
Cover art is from CosmicUnicorn on Devaintart.
EDIT: Other characters are Bon Bon, Lyra, Derpy, Doctor Hooves, Octavia, Vinyl, Amethyst Star, Vinyl, Twinkleshine, Lemon Hearts, Minutte, and Moondancer.
Story no longer Anthro
Takes place around the time which would of been the season one premiere.
Remake of the The Nightmare Reign. I don't recommend you read it since this one is better in my opnion.
Chapters (2)