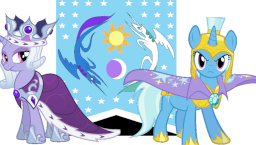 Equestria is under threat. A group calling itself 'Unicornia' has made itself known, and their intent is to dethrone Celestia and Luna, and return Equestria to its rightful bearers: the three tribes that originally founded it.
Some fight for power, some for justice, some simply to defend their beloved land, where Celestia had failed in recent events. Their reasons bring them together, but the fight will not be easy. Friendships will be formed and tested, and lies will lead to bloodshed and severed ties that can never be reformed.
Trixie Lulamoon fights in the present. Queen Platinum fought in the past. Both of them had unwavering resolve, but where one had fallen, will the other succeed?
Credit to Emkay for the Princess Platinum vector used in the coverart, and to Spaceponies for the Trixie vector.
Note: As much of this story was planned out (and some started) before Season 5, the fic itself will take part before Season 5 of the show and as such may disregard some canon.
Chapters (15)