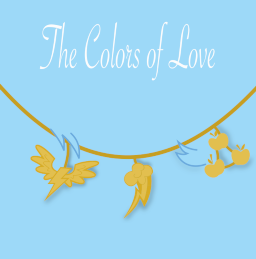 Source
Rainbow Dash and Soarin would seem like the perfect pair, but perhaps there is a side to Soarin that Rainbow hasn't yet seen. Perhaps there's even a side to Applejack that Rainbow hasn't yet seen.
---
A failed attempt at a story about romance and the dangers of young love (and abuse).
Inspired by DisneyFanatic2364's "Bride of Discord"
Mostly written by SunsetAppleTwi and Mirai
Art by CristalGalaxy
---
Anthro: Characters have humanoid bodies (including hands), but still have fur, tails, wings/horns, cutie marks, muzzles, and hooves.
---
T-rating for mild gore, lighthearted use of alcohol, and sexual references. Some scenes may be too intense for younger readers.
Disclaimer: I do not only MLP: FiM.
Chapters (5)