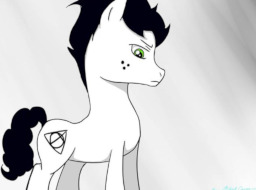 After many centuries, on a dying planet the Master of Death is finally ready to start over, and it just so happens his freash start is filled with multi-colored ponies.
Morty!Harry MasterofDeath!Morty Pony!Morty Grumpy!Morty Jerk!Morty Unicorn!Morty, Pansexual!Morty, Pervy!Death.
This will span the series with AU moments but will start pre-first season.
The ratings is for Harry's potty mouth and Death's perv-like tendencies.
The character section will be added to as the story goes along, so no worries, you'll see some of your favorites at some point.
Cover art done by Dark Canvas/AppleDashislife. (horn is under his mane).
Oh, and in case anyone asks, yes Harry will experiment with relationships and such, but he will be a pansexual, so he may end up with anybody.
I will reference from the show, comics, cards, videogames, fan content, reviewers, and most importantly, my own imagination taking a personal spin on many of the references and sometimes characters.
Characters so far (will continue to add as I go along):
Morty (once HP), Death, Nook and Caboose (Morty's Parents), Princess Celestia, Random Royal guard(s), Headmaster Inkwell (originally a Professor from Comics), Princess Cadence (Morty's roommate).
Chapters (9)