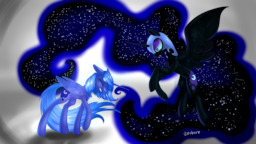 Source
This story is a sequel to That's Your Downfall
---
Discord has been defeated. Princess Celestia and her younger sister, Princess Luna, confronted him, and they defeated him. However, due to Discord's accusations, Luna starts to doubt if Celestia should be ruling.
---
Thanks to Edukas for pre-reading it and giving his wonderful opinion!
Written because people wanted more of the one-shot I did...
Cover art done by Vincher! Check her stuff out!
Chapters (1)