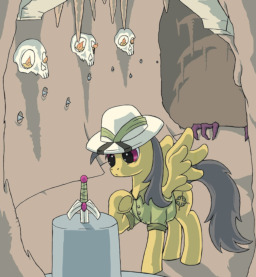 Source
Scootaloo's twelfth birthday is on the horizon, and her friends are planning to throw her the biggest birthday bash in all of Ponyville History. Meanwhile Scootaloo hasn't been feeling well, and has been feeling like no pony truly loves her. What with less time being spent with her friends and her adopted older sister Rainbow Dash, the little filly is feeling very much alone. In a world where everyone has loved ones and commitments but you, it's not hard too feel like you have nothing.
But when she starts to see a hooded figure plaguing her with nightmares, visions and ponies that feel so familiar, she will find that there is a lot more to her than meets the eye.
This idea and story was commissioned by and collaborated with Twilight is the Best
edited by VunderGuy (chapters 1-4)
edited by ARTL
The cover art belongs to SpyroConspirator at Deviant art.
Also, Twilight is the BEST started two petitions. One is to Ban Tipping in his home town and the other is to reboot a 2008 game called Turning Point:
Fall of Liberty which has a good concept of an AU where Nazis invade America, but unfortunately was a bad game. If your interested int either or both petitions,
PM Twilight is the Best , and he'll give you a link to the petitions to sign.
Chapters (19)