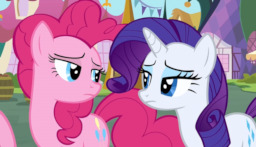 Before coming to Ponyville, Pinkie Pie was a secret murderer. When she quit, she believed that part of her life behind her. Yet, there are things one cannot simply walk away from.
One day, a pony from her past pays a visit and asks that Pinkie do one last job. Having to target the mare she secretly loves, Pinkie Pie now has an hour to experience romance for the first time, before she has to do the deed.
Written for the 10th **** this prompt contest.
Chapters (1)