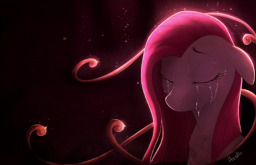 Pinkie has a new friend. Oh, you can't see him, or hear him. He's in her head, roiling about like a little cloud. You're probably thinking, "She's just being Pinkie Pie."
Not this time.
---
Created for the Rage Reviews! group's 10th F*** THIS PROMPT! contest. Sorry guys, I'm drawn to contests like Pinkie is drawn to candy!
Written in a time crunch, so minimal editing has been done.
Artwork is by one Azalia, who appears to have disappeared from the interwebs entirely.
Chapters (6)