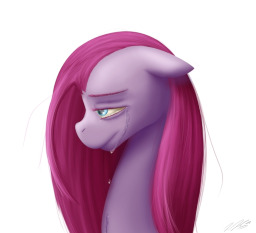 Foreign royalty is visiting Ponyville to meet with Princess Twilight Sparkle. One of them, a sociopath named Prince Glut, abuses Pinkie into fulfilling his wishes. If she doesn't comply, the whole political meeting may be called off, or worse, something could happen to the Cakes.
Desperate to please the prince for Twilight's success, she keeps her ordeal a secret. Now she must find what Prince Glut has requested.
She needs meat.
---
This was written for the 10th Rage Review's F*** THIS PROMPT! contest.
Pinkie Pie is secretly a murderer!
Edited by AlicornPriest.
Preread by Malozi
Art used by tsand106
Chapters (5)