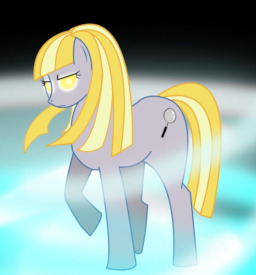 Source
Y.O.H. 961: Four Hundred and Sixty-One Years After Luna's Banishment
Chiller ("Wraith-Kissed") Tale was just one of many aspiring bards when he made the mistake of letting a ghost kiss him deep in the Everfree Forest. In one moment he lost his handsome face and released his incredible talent for dark poetry and songs.
That was forty years ago. Now he is one of the favorites of Princess Celestia at her court in Canterlot. But his beloved wife, Sweetsong Snowmane, has died and he has given up on life.
Forty years ago he fled his death, death ponified as a beautiful undead horror. Now, he seeks the death he cheated four decades past.
What will happen when Chiller returns to where it all began?
Chapters (1)