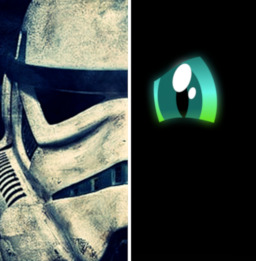 This story is a sequel to The King of All Traitors
---
Queen Chrysalis plan may have failed but in another world she has finally done it. Her plan to conquer Canterlot has succeeded and she now moves on to conquer the rest of Equestria. Betrayal spreads, suspicions arise and only Zecora is left to watch over the remaining ponies that were able to escape. And her only hope is that the young alicorn she met so long ago is able to save her own time so that peace may ensue in at least another world.
The battle with the changelings was fierce and Zecora was heavily injured in the process. A majority of the refugees they had been able to save were captured and now Zecora and co hide out in another part of the Forest with less than half the survivors strong enough to search.
Feeling they should keep watch a less than exuberant Pinkie, an belligerent Fluttershy and other members that are strong enough break into a search party around the area, only to come across a creature clad in white armor stating he wishes to help.
Can they trust him? Or is he another changeling in disguise?
---
Stormtrooper image created by sanxyra
Image edited by me.
Chapters (1)