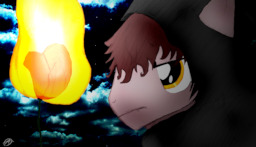 My name is Lathyrus. I am writing this story so that those who read it can help me. There have been some complications recently, or rather, for a very long time. I have been living with this human, Vehemence, for quite some time (he told me his real name, but he prefers for me to call him by that). I write this story in hopes that someone will be able to help me get back to Equestria, and to come back home to... her. So please, anybody who reads this, if you can help Vehemence get me back, I would be eternally grateful to you. I guess I'll just start off and say that setting light to unknown things tend to shift the mindset of the average person. For me, however, it only infuriates me, and frightens me.
Vehemence here:
Hey you reading this, go read this as well. Go read all of his other stuff as well, it's amazing. Besides, you are going to want to read it at the same time if you want to grasp a full understanding of what's going on, so get to it!
Note: The gore description doesn't necessarily mean that the entire story contains gore. It's so more of a discretion warning. Though gore is not an explicit theme in the story, there are a few chapters and scenes that do in fact roam into that territory.
Chapters (14)