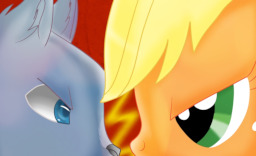 Hiatus: October 3rd, 2016
---
Twilight casts a spell that is supposed to take the Mane 6, CMC and Spike to a Wonderbolts show. Instead, they get sent to a whole other world! A world of cats and humans. The cats belong to the Clans and the Tribe of Rushing Water. One prophecy shall endear these new arrivals to ThunderClan, where they will grow up once again. After facing many challenges, will this be the one that defeats them?
Only one catch exists. They live in the world of the Warriors with no memory of their pony lives, except for a few flashback-like instances. How will some of our favorite characters return to the world they once knew? May StarClan light their path in this epic journey.
---
MLP-Warriors Crossover.
In the Warriors Timeline: Occurs 6 moons after Cinderheart's kits are born
In the MLP Timeline: Occurs after The Friendship Games
Chapters (9)