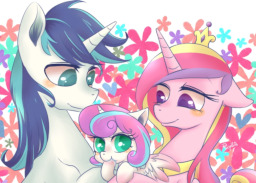 Source
Princess Cadance is nearly ready to deliver Princess Flurry Heart into the world, and Shining should be the happiest stallion in the world. After all, he's about to become a father—what stallion wouldn't rejoice at this fact?
And yet... something's eating away at him. Keeping him up nights. Driving him to speak with anypony who'll listen. An anxiety. A fear. A doubt.
An inadequacy.
---
My submission to Scribblefest 2016. Rated teen for some mild descriptions of birth.
Pre-read and edited by the lovely Plumander. If you like my work, consider donating to my Ko-Fi.
Chapters (1)