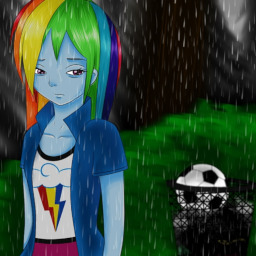 Rainbow Dash is a star athlete of Canterlot High who is pretty much admired by everyone. She has a really big reputation of being the best she is. But this girl has a secret. After trying hard to move on from a break up a couple months back, a huge discovery is made. She's pregnant. Over time, she goes through a lot of physical and emotional trauma. When she's soon diagnosed with hypertension, it's become likely that her and her baby's life is in danger.
---
THIS STORY IS CURRENTLY BEING REVISED. NEW PLOT, SETTING, AND TIMELINE ( SAME CHARACTERS THOUGH). EVERYTHING IS BEING MAPPED OUT CAREFULLY. REASONS FOR THE YEAR DELAY AND I APOLOGIZE!
UPDATED CHAPTERS ARE EXPECTED IN JULY 2017
Edited by: Gamer4GOD
Cover drawn by me
*tagged "sex" for sexual references. Includes no actual sex."

Chapters (1)