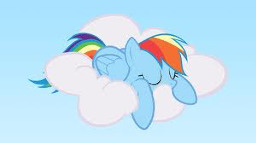 When Rainbow Dash eats some flowers that were drifting on a cloud and had recently seen a mysterious mare with a cloak to hide her identity, she goes into a coma. With time running out for her friends to save her and Rainbow completely unaware of the world around her, will Rainbow survive?
Rated everyone for perhaps slight violence but no gore, swearing, inappropriate material, etc. in any way!
Thank you all for your support! I can't believe people are actually reading this... More will be posted soon!
Please rate, comment, and feel free to give me critisim!
Chapters (3)