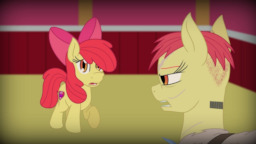 Source
A collection of (mostly) unconnected one-shots all based around pairings as chosen by the Wheel of Shipping. Each day throughout March, I will spin the wheel to produce a pairing and then write a one-shot about that couple. Some stories will be long, some short, some comedy, some drama, some tragedy, some serious, some not etc.
Wheel of Shipping, turn, turn, turn, show us the pairing that we should burn ...
[Note: Not all tags are in all stories. They represent an overview of what the stories as a whole include. Check description for brief notes on the genre of each day's ficlet.]
Day the Twenty-Fifth: Derpy Hooves/Nightmare Moon
Day the Twenty-Fourth: Rainbow Dash/Princess Luna
Day the Twenty-Third: Trixie/Pinkie Pie
Day the Twenty-Second: Apple Bloom/Apple Bloom (grimdark)
Day the Twenty-First: King Sombra/Gilda (comedy)
Day the Twentieth: Trixie/Starlight Glimmer (comedy/romance)
Day the Nineteenth: Discord/Sunset Shimmer (comedy/action)
Day the Eighteenth: Fluttershy/Spitfire (romance/uplifting)
Day the Seventeeth: Cadence/Nightmare Moon (slice-of-life/darkfic)
Day the Sixteenth: Photo Finish/Princess Celestia (darkfic)
Day the Fifteeth: Princess Luna/Gilda (sadfic/drama/uplifting)
Day the Fourteenth: Golden Harvest/Braeburn (sadfic)
Day the Thirteenth: Sunset Shimmer/Fluttershy (fluff)
Day the Twelfth: Noteworthy/Fleur De Lis (sadfic)
Day the Eleventh: Princess Luna/Nightmare Moon (darkfic)
Day the Tenth: Limestone Pie/Starlight Glimmer (comedy/slice-of-life)
Day the Ninth: Sapphire Shores/Countess Coloratura (fluff)
Day the Eighth: Rainbow Dash/Celestia (comedy)
Day the Seventh: Cadence/Tirek (grimdark)
Day the Sixth: Flash Sentry/Spitfire (sadfic)
Day the Fifth: Fleur De Lis/Big Macintosh (slice-of-life/uplifting/drama)
Day the Fourth: Marble Pie/Prince Blueblood (slice-of-life/uplifting)
Day the Third: Fancy Pants/Svengallop (fluff)
Day the Seconde: Rarity/Shining Armour (drama)
Day the Firste: Queen Chrysalis/Noteworthy (tragedy)
If you wish to spin for your own random pairing, the Wheel of Shipping can be found here.
Cover art of the author drawn by Tranzmute in lieu of something more appropriate.
Chapters (25)