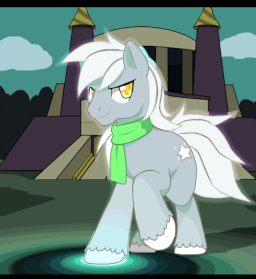 Source
(Rated Teen for: Suggestive themes, violence, crude humor, minimal blood and partial language.)
Cover Art created by Droll3
Arcane Academy: A prestigious academy which specializes in teaching magic to those willing to learn. This private institute is known by very few and is very difficult to get into, only a select few which demonstrate exceptional magic abilities are permitted to enter.
Though the academy specializes in magic, students participate in rigorous missions which test strength, endurance, cunning, and other skills on different levels in hopes to one day graduate and become a member of the Equestrian Arcane Agency; a secret faction of powerful unicorns who work tirelessly to defend Equeastria from the shadows.
Join Silverlight on his journey as Celestia's new student as he attempts to graduate from the academy and become the most powerful wizard in Equeastria. His only problem is: he's an earth pony attempting to learn Arcane magic.
Part 1: Arcane Trials Arc
Part 2: In Progress
Chapters (17)