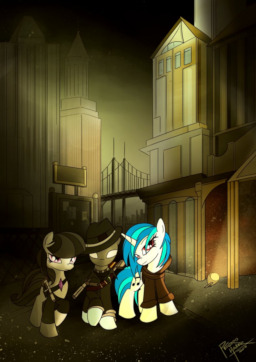 Manehatten, once seen as a city of wealth, now will be seen as a city of crime and corruption. The Governor has passed an ordinance that outlaws all types of alcohol intake, possession, or purchase to bring down the cost of taxes on it's citizens In the city. Some accept the ordinance, others don't but say nothing out of fear. And in Manehatten, the two biggest rivals of alcohol production will not see that their way of profit is taken from them because of a broken politician, and thus begin to work underground to maintain their way of life.
But the two have decided that maintaining their way of life isn't enough, and thus opt to go to war with one another to become the strongest production families.
In the midst of this comes one stallion who, though may not know it yet, is about to have his life changed forever, and become a symbol of one of these families for fear, he is about to be thrown into the middle of this war. He is about to become...
The Manehatten Typewriter...
UPDATE: 3/4/2016
The story will be going into hiatus until the following Sunday. Once that passes, then story continues.
UPDATE: 5/12/2016
New Cover Art!!! Big Shout out to this dude. Check out all his stuff!!!
Chapters (6)