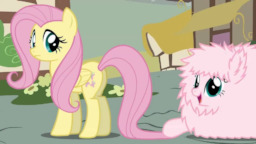 Fluffle Puff is a very, VERY affectionate pony. She usually goes to Chrysalis for snuggles and down time, but Chrysalis is away on a trip over the weekend.
Fluffle Puff can't accept not having snuggling time for that long. She decides which other pony would be the best for this thing, and naturally, Fluttershy comes up. Fluttershy's good with animals, and Fluffle Puff acts like a cat anyways, so why not?
Naturally, this is going to be a disaster.
Edited with the help of Salnalus and Kirishala Evenstar. Cover art is...oh come on. Haven't you seen Fluffle Puff's videos?
Chapters (1)