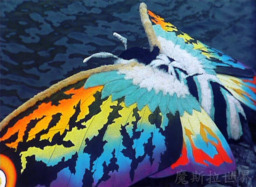 Source
NOTE: This fic is not canon to the ANWANW timeline, as it contains Fakemon. Also, check the bottom for something awesome!
---
Jason Turner, Salintra's new Champion, thought he could just finish the pages of his Pokédex and return home victorious. After all, Team Verdure has been defeated, ending their attempts to destroy all signs of human influence. With the region safe, what could go wrong?
How about Arceus waking up and immediately trying to take a member of his team from him?
Giganoth, the Guardian of Humanity, refused to be separated from her trainer, so Arceus left them behind when he took the rest of the Legendaries to Equestria. But instead of admitting defeat, Jason and his team will help "Glitterwings" perform her duty, even if it means defying the very being who gave her that duty in the first place.
Join Jason Turner and his team of six Pokémon—Wanda, Flash, Eternia, Burst, Adorakill, and Glitterwings—as they travel Equestria to find a way to restore humanity and spread the truth about catching, training and battling, and how there's nothing bad about it at all.
---
Another note: Yeah, I know that's Rainbow Mothra in the pic, but Giganoth looks quite a bit like her, so that pic will have to do for now.
---
Now has its own ask thread! Check it out here: CLICK ME!
Chapters (7)