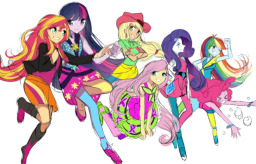 Source
Taking place before the start of Equestria Girls in canon time, and replacing it in and it's follow ups, this story follows the Humane 5, split apart by the manipulations of Sunset Shimmer, find themselves having to reunite.
Following a mysterious event one night, six mysterious lights have fallen upon Canterlot City. Following these lights came a burst of energy that granted several in the city superhuman abilities. Among them are the Humane 5, who find themselves in conflict with a repowered Sunset Shimmer for possession of these lights. And as this conflict reigns, other interested parties find themselves drawn into the conflict.
Story beta edited by Hidden Master at the current time.
Chapters (8)