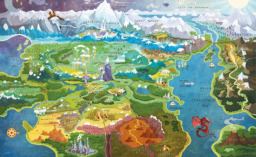 Equestria is the homeland of ponies, surely one of the most powerful kinds that have ever existed. Ponies have control over the weather, magic, the sun, the moon and so much more. They have developed an unspoken pride for their kind that gave them overweening self-esteem. It brought them to completely ignore the other kinds of the world for centuries.
As the Princess of Friendship, Twilight Sparkle wants to renew with the other kingdoms of the known world. Thus she embarks herself into diplomatic visits. Accompanied by Applejack and a young airship captain, she is planning to visit numerous locations such as Griffonstone, the bat ponies' caverns, Yakyakistan, the Minos Empire and much more in order to meet the chiefs.
But she wasn't expecting to fall in love with her friend Applejack. Between diplomatic visits and her own feeling, she has to be a diplomat. A heart diplomat.
Note: I am currently in search of an editor for this story, if you are interested in, don't hesitate to contact me.
Chapters (3)