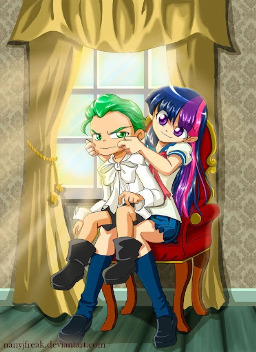 This story is a sequel to A Sparkle of Hope
---
This story is going to be heavily revised and edited. There will be an announcement for re-release. Please stand by.
Five years have past since Twilight and the Sparkle's welcomed Spike with open arms into their home. Starting middle school should be easy for the young boy, right? If only things were so simple.
The reality is anything but. For once in his life Spike Sparkle wants someone to notice his pain, something he fought so hard to keep concealed in the past. But when the people you trust the most are too busy dealing with their own lives, sometimes you end up falling through the cracks. A lesson the little boy had learned all too well growing up, before and after meeting Twilight Sparkle.
Since moving in with the Sparkles, Spike never felt more alone in a house full of people. So when his family expects everything to be fine, how long can he keep up the charade?
The truth is never hidden for long, it wants to be told. When it finally is, and the young boy is pushed to the breaking point, it will change everything for him; and for the girl that changed his life.
Cowrote with Twidashforever
Chapters (15)