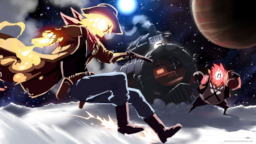 Source
The pony who wishes to make friends with everyone.
The being who exists only to prolong his existence.
...
Chance brings the two together, showing each that there is always more to learn.
---
This can be considered a Starbound crossover, but it doesn't really hold relevance to the game beyond using a Novakid as the alien Twilight encounters, as evidenced by the cover art.
Please read the author's note at the beginning of Silence for information regarding the story's structure.
Chapters (2)