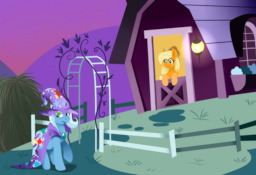 The Great and Powerful Trixie returns to Ponyville, nine months after the events of the Alicorn Amulet, but this time she's not back for revenge. In fact, Twilight Sparkle barely even registers on her radar. Trixie's actions while under the influence of the Alicorn Amulet have come back to bite her in the flank.
Sweet Apple Acres is going to be receiving a visitor, and maybe, a little something extra.
Takes place between seasons 4 and 5.
The original idea for this story was… conceived by the great and talented writer Crystal Moose. My Humble and Meager skills were used to finish this story past chapter 5, so please forgive me for mutilating Crystal Moose's concise prose with my florid non-sense.
Cover Art by: Norm
Edited by: Level Dasher
Chapters (14)