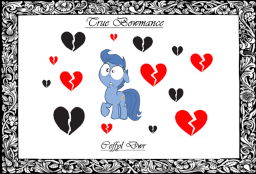 Coming from a proud family celebrated for their ability at helping ponies fall in love, Archer wants nothing more than to be able to carry on the Cupid tradition. What helps is that her mother is one of the most successful Cupids to ever walk Equestria.
What helps less is that Archer is possibly the worst.
But that's not going to stop her from trying.
---
Pre-read by Astrarian and Winston, to whom I am grateful for both quibble-spotting and for stopping me from ending the story in an unsatisfying manner. Special thanks to Astrarian, who also indulged my short notice request for a second pre-read, and for general supportive discussions about the nature of the story itself.
Further thanks now go to Pre-readers Ferret and 63.546 for their invaluable editing advice.
---
Featured on Equestria Daily. On Hearts and Hooves Day no less.
Chapters (2)