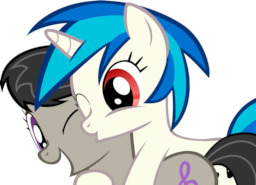 It's late, the fire is lit, you've a steaming hot mug of tea... what better time to have a chat and set the world to rights, and maybe get something else out of it too?
Rated 'T' due to moderate innuendo .
--------------------------------------
*EDIT* Hello, ponies! This was originally going to be a one-shot wonder, but I enjoyed writing it, so there you are. And although it says 'completed', that's only really because each chapter can be read alone. I'll probs always be adding more chapters!

Chapters (7)