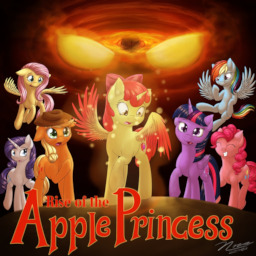 Source
After waking up from a nightmare she has little memory of, Apple Bloom is stunned to discover that she has become a fully-fledged alicorn! She quickly heads to Twilight's castle, in hopes that the princess will be able to shed some light on her sudden transformation.
Unfortunately, Twilight is just as baffled as the new Alicorn filly, leaving only Celestia herself to possibly have the answer. But both Princess Celestia and Princess Luna have gone missing, leaving more questions than answers.
Could Apple Bloom's dream have a connection to their disappearance?
Is there a dark force behind it all?
And most importantly to Apple Bloom; does she still have to go to school?
---
Cover-Art designed by: Novaintellus
---
When your whole life has changed, who's going to remain by your side? - Novaintellus
---
Chapters (5)