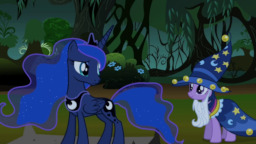 Source
There is something bothering Princess Luna.
Every night she goes down into the Hall of the Elements, and sits a lonely vigil as her heart turns with confusion and fear. Not matter what she has tried, she has gone there night after night, a single question eating at her.
Why, of all the villains the Elements of Harmony have punished, was she spared?
Written between Season 2 and 3.
Part of the Shelf Cleaning Initiative.
Chapters (1)