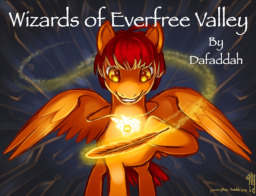 Firefly the pegasus foal loved magic. He loved spells, enchantments, magical objects and the way magic could be used to transform and animate objects, to make them more useful to ponies and to let ponies do what would otherwise be hard or even impossible. The only problem was that like most ponies Firefly could not cast a spell, and he never would, and that was just the way things were. When he grew up, Firefly moved to Ponyville and he decided that just because it had never been done didn't mean that it never could! The result changed Equestria forever.
This story is a compendium of my entries in Obsolescence's OC Slamjam contest of early 2015, in which I was runner up (my series are listed under "Firefly's Author"). Here are the links to the OC Slamjam contest and the OC profiles if you and interested, but these are not needed to read the story.
NOT A SPOILER: this story is very loosely based on the microcomputer revolution in the late seventies and early eighties, in which I was intimately involved (yes, this means I'm in my fifties). I hope this story will give the reader a bit of the feeling of what those heady days were like when the incredible power of computing escaped from an elite few into into the hands of even the most modest person, and of the very special people who had it in them to think different and make it happen.
Chapters (10)