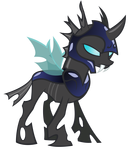 The name's Volde. Well, at least that's what I called myself when I got here. My old name is unimportant now, forgotten. I was sent here for some reason, I don't know why I was chosen to be sent here of all people, I'm not at all remarkable. A lot of the people you hear about coming here are usually smart, fast, or are good fighters in general. Not me though, I was just your average joe, just sinking into the background and going with the flow while staying quiet most of the time. I guess this was some kind of ironically sick joke that the person who sent me here was playing. It's weird and ironic at the same time, I was always quiet and just formed myself to fit other people, and now I'm like this for good.
--
Well, this is original, right? Another HiE type deal, totally hasn't been done a million times before.
A couple quick things:
-- This story is rated Teen due to blood, violence, and colourful language.
-- The prologue to the story is rushed and was only made so that I could finally get the idea out of my head quickly. I'm only adding this here to ask that people don't judge the entire story based on that little mini-chapter.
-- This entire situation is inspired by, BUT IS NOT APART OF the world of Griffin the Griffin and The Ballad of Echo the Diamond Dog
-- Enjoy!
Chapters (5)