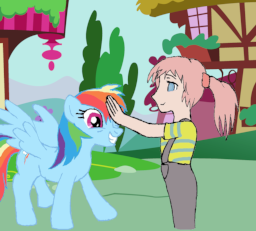 Source
The most ordinary day in Equestria. Until a 6 year old human girl walks straight in the middle of the lively Ponyville Marketplace, in its most busiest of hours! When nopony offers to help this lost soul, Rainbow Dash steps in! The girl is young and doesn't seem to know much of anything, let alone about talking horsies! But she will have to put her blind trust in the hooves of one!
RD will also find that something is definitely off about this alien creature from another realm! What is it? Read to find out!
Update: The story line progresses somewhere after the Crystal Empire adventure adventure during season 3.
Chapters (10)