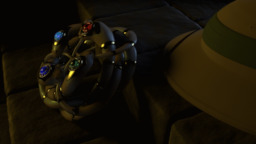 Source
This story is a sequel to The Diamond Dog's Guide to Engineering
---
Part of the Observations Universe!
---
Everyone knows her as Daring Do, the Adventuring Mare of Mystery, but when the revolving doors of her various nemesis' ambitions seems to stop, she suddenly finds herself with far too much time on her hooves.
Through an anonymous source curiously identifying themselves as Daring Do's Number One Fan, she receives a set of coordinates that seem to point to nowhere. Taking her chances on what could either be a trap, a dead-end, or one of the greatest discoveries in her field, Daring must come to terms with the fact that even she, an expert in the field of ancient history, might not know where to draw the lines between myth and legend on this adventure.
Chapters (16)