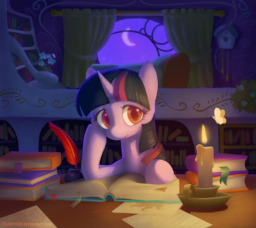 Source
On a quiet and ordinary night, Twilight sits in her library and reads a book. She is staying up late to study, like she did in so many nights before.
And suddenly, the night isn't ordinary anymore. Strange things start to happen, but what do they mean?
Is it really just exhaustion from too much reading that is causing all of this or something else entirely?
A short story dealing with the topic of premonitions and dark omens.
The cover picture was drawn by Celebi-Yoshi on Deviantart.
Chapters (1)