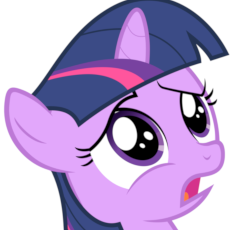 Twilight Sparkle is often cited as being a prodigy. What if that fact is truer then previously believed? In this alternate scenario Twilight develops alicornhood much sooner thanks to the magic surge during her entrance exam. What follows is chaos as the lavender pony maneuvers herself in this crazy new world. Meanwhile, those in the old aristocracy either try to remove the filly or attempt at taking full advantage of her. These are the adventures of an innocent filly who has to contend with the adult world. Silliness is all but certain.
Editor: cyberlord4444
http://www.fimfiction.net/user/cyberlord4444
Inspiration for this story goes out to Georg. If you want to read another filly alicorn story go here: http://www.fimfiction.net/story/143216/letters-from-a-little-princess-monster
Some try to write fics about Twilight as a child alicorn, some about her early years as a student, fewer still try to write about both. Hopefully it works.
Good news, it turns out someone made a tvtropes page.


http://tvtropes.org/pmwiki/pmwiki.php/FanFic/RenderUntoTwilight
Chapters (24)