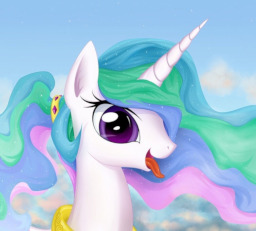 Source
Journals. Everyone keeps one, even if they call it by a different name. An autobiography, some online blog, or even fading memories in the mind regaled as tales to grandchildren, it's always recorded somewhere for someone to see or hear one day. And whether or not it's truth or fiction, it's always unique in delivering an individual perspective on life.
Celestia politely asked Sunny, her mirror pool duplicate, to write about her life experiences in one such journal.
Unfortunately for her, Sunny wasn't very good at following directions.
---
This is a side story to Letters from an Irritated Princess.
While knowledge of the whole series is not required, it is highly recommended that one has read the events beyond the Slice of Life Letter to have a better understanding of the circumstances. Otherwise, reading this might be confusing.
Correction: It will absolutely be confusing. Also made a small title change that should, in theory, be simpler.
Chapters (18)