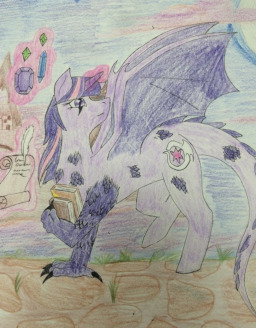 Adventure
Alternate Universe
Comedy
Dark
---
Canterlot is getting ready for the wedding of the century, Princess Mi Amore Cadenza is marrying the Captain of the Royal Guard and part of the draconic royal family will be in attendance. In addition to helping prepare the most high profile wedding Equestria has seen in living memory, Celestia has tasked Sunset Shimmer and the rest of the Elements of Harmony with befriending the future queen of the Dragon Empire and her entourage, the first Sorcerer the Empire has ever had. One thing is certain, this will be a wedding that nobody ever forgets.
(New description has be made by none other than DoomManta)
(Story has been inspired by This picture) Go check out the person who did it Zig-Word
New cover art is drawn by http://akerabronzpaw.deviantart.com/ It may say a different name but same person.
---
Note to all: This story has been made before the season 6 ep 5 "Gauntlet of Fire" was made but may have some details about it. ;)