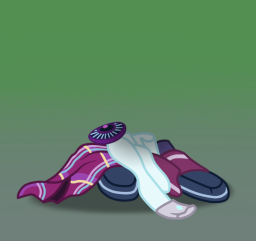 Principal Cinch, after suffering the humiliation that was the First Challange of the Friendship Games, has decided to resort to fight fire with fire, by forcing Twilight Sparkle- student extraordinarie and researcher of magic- to unleash the power she has sealed inside a peculiar device.
The trouble is, there's no garauntee that said magic will actually make the user stronger... or limit its effects to the bearer.
---
Alternate ending of the "The Friendship Games" EQG movie. Contains physical regression and, later on, diapers. Ye be warned.
Credit to the Stargrazer for the cover art.
Chapters (12)