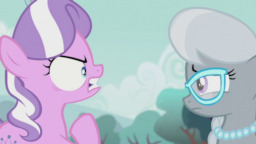 Source
It has been a long road, traveling from school bully to an ACTUAL popular kid, but not too popular. Spoiled Rich however, is very annoyed, and, well, she bursts.
Diamond Tiara has a sleepover with Silver Spoon, Scootaloo, Applebloom and Sweetie Belle. At first it seems like a good idea...
Diamond Tiara and Silver Spoon get into a fight, and the insults are getting bigger and bigger, and every time Scootaloo, Sweetie Belle, or Applebloom tries to stop them, it angers them even more. They seem like their old selves again.
WARNING : Contains spoilers from the episode Crusaders of the Lost Mark.
Chapters (1)