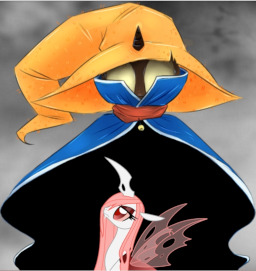 This story is a sequel to Metamorphoses
---
Serendipity is an intelligent and strong-willed, but peculiar and unique individual indeed. She's blind, sickly, suffers from the effects of albinism, and altogether possesses an almost fragile and ethereal quality due to her appearance and condition.
Because of this, and in part due to her hybrid status and antisocial nature, she has earned the worry, unease, and harassment of more than a few of Ponyville's residents throughout her life. Nevertheless, as a young, but full-grown adult, she is quite content with living alone in the middle of the Everfree Forest as an avid plant breeder, and part-time botanist.
As her seventeenth winter pulls in and Ponyville readies itself for another Hearth's Warming, a sudden blizzard of an epic, and almost magical proportion invades, forcing many of the town's inhabitants indoors. No sooner had the fierce storm arrived, but a complete stranger pulls in as well; his reason for appearing being under the pretense that he's "looking for somepony."
This drifter with an utterly alien personality, Striga Phobetor, ends up renting out the half-changeling's home for the week. As one of her only friends and non-related cousin, Charybdis, comes to visit for the holiday, the two become captivated with the mystery surrounding this enigmatic character, and who... or what... he may be...
Art work based off of character created by Faith-Wolff from Deviantart
Chapters (12)