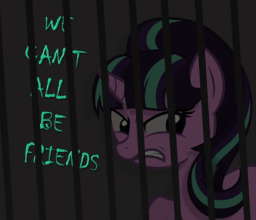 Source
We all know how the end of the story went. Starlight was shown the disastrous consequences of her time travel spell, she revealed her past, Twilight took her under her wing as her own student and she mends her ways.
But what if that wasn't the case?
Even when the results of Starlight's meddling of the past is shown to her, she rejects the offer of friendship and still vows to never stop her attempts to exact revenge on the Mane Six and ruin their connection. Thus Twilight is faced with only one final option...
Starlight Glimmer vector by Godoffury
FEATURED: 28th October 2016! Thanks a bunch, y'all!
Now with a TVTropes page!
Chapters (1)