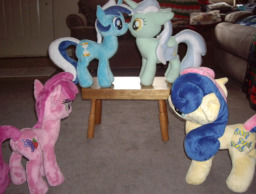 Berry Punch is usually the forceful one in the relationship. She does all the flirting, she puts on the moves, she does the pinning against the walls or beds or floors. But not tonight, not on her birthday night. Tonight, Minuette is taking the lead, and she knows every single one of Berry's pleasure buttons. How much can Berry take of her wife's sultry flirting?
Teen because cider and frisky ponies with cider.
Written as a birthday present for Golden Mercury Dragon's birthday.
Chapters (3)