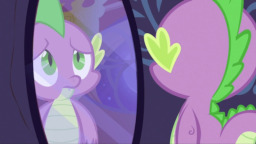 For a long time, I thought I was an oddity. One dragon living with a bunch of ponies, in a whole kingdom of ponies, no less. I was emasculated, a shadow of what I thought I was supposed to be. What I expected of myself, and what I thought was expected of me, drove me to follow the great dragon migration. I thought it would wake up my inner dragon, and finally allow me to realize what I'm meant to be in this world. But it didn't. All it showed me was that other members of my species only care about size, strength and brute force. I left there, glad that I had such good friends, but still just as lost as ever on the inside. That is, until she showed up.
A crossover-ish type story involving a certain black lady dragon from a video game series.
A MLP Legend of Spyro crossover, though no knowledge of the games is needed to read the fic.
Chapters (6)