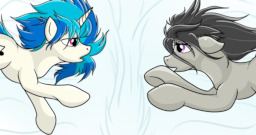 With another night of drinks comes another visit to Octavia's house for Vinyl. The reasons for both are as they have been for the past while.
Despite the somewhat recent bad blood between the two, Octavia can't see somepony once dear to her suffer.
The trouble is, can she truly speak to one who is unwilling to listen?
---
Brought upon by "Stay the Night" by Zedd
Chapters (1)