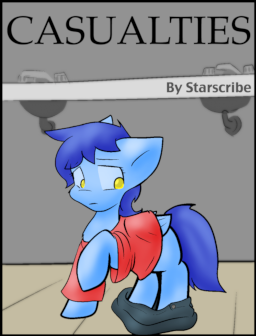 Source
The perfect bioweapon: takes effect within minutes of exposure, has a 100% success rate, and those exposed spread it wherever they go. Armed with this powerful new weapon, an evil organization attempts to bring about a reign of terror unlike any seen in the world before. Unfortunately, the perfect weapon doesn't work quite as intended. Instead of killing its victims, it changes them into ponies.
Tiny, adorable ponies.
The world is doomed.
This story was written for the Transformations group story contest. It was originally published under the name "Consequences," though this story has been heavily revised since then.
Thanks to my usual crew Two Bit and Sparktail for the editing, and for everyone who submitted feedback on the original contest entry. As usual, my coverart is by the fantastic Zutcha, so go ahead and check him out of you haven't already! The story's changed a great deal since then, hopefully for the better.
Chapters (5)