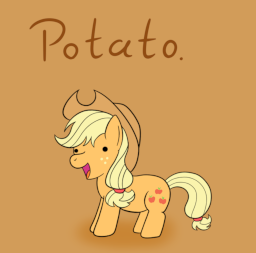 Source
When Applejack finds one morning that she is bucking potatoes instead of apples, things go a little bit wrong. Granny Smith is very annoyed at Applejack for letting their family become the potato family instead of the apple family, Big Mac disappears, and Apple Bloom is spending barely any of her time with her family. What has Applejack gotten herself into?
Well, that was the main idea... now I'm getting a few different quests for Applejack, lets torture Applejack!
All curse words are under spoilers, so that's why there are random spoiler words.
This is a story for an amazing pony named TurnWrongTheStranger, I hope she likes it!
Chapters (2)