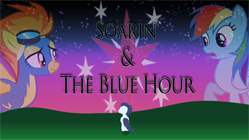 This is not only my first fan-fic, but the first story that I've actually written!
It seems as if every mare in Equestria is throwing themselves at him, every mare that is except the one he truly wants. A handsome and carefree young stallion, Soarin' is finding life as a Wonderbolt and a bachelor difficult. As far as relationships go, nothing ever goes the way he would like. Eventually things do start going his way for once. The blue Pegasus soon discovers, however, that love has other plans in store.
IMPORTANT NOTE: This pony right here, NinjaBrony43009, awesome person! Put my story on the Looking for Editor's group, and he came to my rescue. He has also agreed to be the editor for the rest of this story! CluelessFilly also came to my aid and has agreed to be an editor on this story. Now if that ain't 20% cooler, then I don't know what is! Both of these people are simply amazing!
Chapters (2)